WORKAH0L1C
helps you to communicate your company engagement & work professionalism by sending good vibrations of hard work to your desktop pointer device repeatedly, to keep things (i.e. online activity status indicators of diverse surveillance tools) in the green.
PHOTO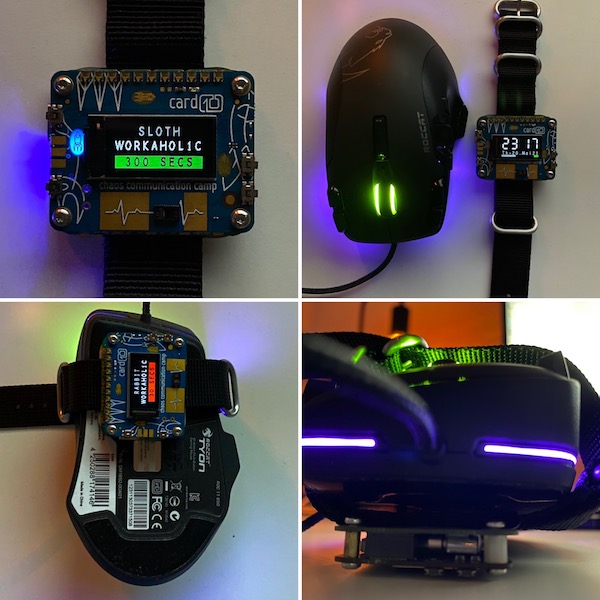 (download full res photo here)
TUTORIAL
Launch WORKAH0L1C on your card10 and choose your work mood which is related to the interval/pause we make between vibrations (SLOTH == long interval, SQUIRREL == short interval).
Now put the card10 upsidedown with the screen facing down towards the surface of your desk. Don't worry about the screen staying on, it won't, it powers down in energy save mode after 30 secs and then completely switches background lighting off after 60 seconds.
Now place your desktop pointer device (i.e. mouse) with the IR sensorhole above the card10 back. it helps if you put also the bracelet across the mouse, then mouse and card10 stay connected. Without a bracelet you are only good for maybe 30 minutes of hard work.
See how the good vibrations move the mousepointer for you. It's magic, now you are present at your desk even if you take a good smoke outside.
Have fun & work squirrel'y hard!
KUDOS
THIS CODE COMES WITHOUT ANY WARRANTY AT ALL, MAYBE IT WILL WEAR OUT YOUR CARD10 BATTERY AND VIBRATION MOTOR. IT BORROWED SOME LINES OF CODE FROM APPS CREATING VIBRATIONS AND LIGHT EFFECTS. FEEL FREE TO UNDERLINE YOUR WORKAH0L1C LIFE ON CORPORATE WORKER SURVEILLANCE APPLIANCES (CWSA) LIKE e.g. SLACK, TEAMS, SKYPE, ZOOM, etc. BY SIMULATING POINTER DEVICE MOVEMENTS IN AN UNPREDICTABLE MANNER TO AVOID SCREENSAVERS & CWSA TO SEND THE WRONG MESSAGE TO YOUR COMPANY's BOSS. BUT KEEP IN MIND, THIS IS JUST A SILLY APP NO SOLUTION.
LOST AND FOUND
CODE MAY BE FOUND ON: badge.team
ALTERNATIVES
Just read the code. =)